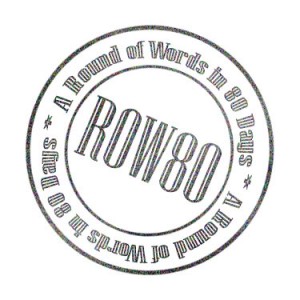 First of all, the baby gerbils have names! It took us until Thursday to come up with the ones that both my daughter and I said, "Yes! That's it!" We took Ginger Calem's  suggestion for the lilac gerbil, and named him Finn, short for "infinity," which is how far he'd run on that wheel if he could. Thanks, Ginger, and to everyone else who offered suggestions!
The spotted Siamese boy was trickier. It turns out, he likes the wheel too – when Finn stops long enough for him to get a turn. He's also calmer, and friendlier – when we hold him, he often purrs. (Finn has a couple of times.) My daughter thought with how pretty he is, he deserved a regal-sounding name. After several "nah, that's not it," I came up with Reginald – or Reggie. She liked it. So today we'll remove the divider, and see how Finn and Reggie get along with Sandy.
And how did I do with ROW80? Not as well, I'm afraid. The various celebratory dinners and such cut into writing time. It's also been nice out all week, so that cuts into motivation as well. However, it's a new day, so I'm going to do better next week!
Complete Lesson 7 of How to Think Sideways – Got about halfway through. This was a long one.

Follow up with beta readers for Hangar 18 – Done! One is almost done, waiting to hear back from the other.

Write two guest blogs I promised – the one from last week, and a new request – Done!

Three interval workouts and two shorter workouts – Nope. Got the three intervals in, which is the more important.

Track exercise and consumption – Not even close. This was a lost cause with it being birthday week. I'll do better next week.
Overall goal progress:
Release Time's Fugitive, in both ebook and print – Done!

Complete Holly Lisle's How to Write a Series workshop – Done!

How to Think Sideways workshop – complete through Lesson 8 (1-4 done previously) – on track!
Release Hangar 18: Legacy – OR – release Times Two (Time's Enemy/Time's Fugitive box set) as an ebook – on track!
Bonus: Both of the above – on hold until other goals accomplished
For this week, I'm going to go a little easier. This coming weekend is Memorial Day weekend, which means extra socializing, and we also have my daughter's choir concert to attend one evening.
Complete Lesson 7 of How to Think Sideways, plus Lesson 6B, which I missed last week.
Cover design for Times Two
Three interval workouts and two shorter workouts
Track exercise and consumption
How are you doing in this round of ROW80 – or if you're not a writer, or not doing the ROW, for this spring? Do you have any big plans for Memorial Day weekend?