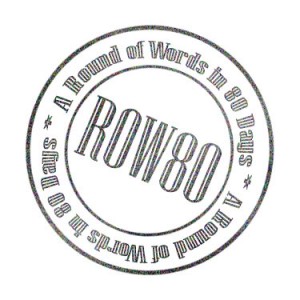 I pulled one of my old tricks this week, and forgot that I had an all-afternoon writing workshop on Saturday. With an hour drive time each way, that took up most of my day. Normally, I spend a lot of Saturdays finishing up my goals. But in spite of that lack of planning on my part, I didn't do too badly!
Complete web design/copywriting side job I took on last month – Done! (at about 11pm last night 🙂 )

Come up with 5 plot cards for short story – Yes! It all coalesced on Thursday evening, and I got my plotting done! Now the hard part comes. 🙂 

Complete Get It Together Chapter 5 – 7 exercises – I got most of 5 and 6 done. Better than none!

Three interval workouts and two shorter workouts – Done!

Track exercise & consumption 5 days – Nope. I just can't get back into this habit, and I need to, because tracking it helps me not snack as much.
But overall, I'm happy with my progress. So here's what's on deck for this week:
Two scenes on short story – I'm very rusty on writing new material, so this could be a stretch. Ideally, I could get the whole thing written, but I don't want to count on it. Getting started will also take care of Lesson 9 on How to Think Sideways.
Complete Get It Together Chapter 5 – 8 exercises – Adding one more to keep with my two chapters/week schedule.
Three interval workouts and two shorter workouts
Track exercise & consumption 5 days
BONUS: Web design/copywriting side job – it's waiting for the client's review right now. If he gets back to me on time, I'd like to get the changes made and get it hosted. But that's dependent on him.
BONUS: Additional writing on short story
Here are my goals for the quarter overall:
Work through Lesson 18 of How to Think Sideways Waiting to jump back into this when I get started writing the short story.
Release Times Two (combined ebook of Time's Enemy and Time's Fugitive) – waiting until I get web design project done

Complete Saturn Society short story for holiday anthology – working on it!

Complete Get It Together exercises and data gathering – Chapter 3 – 4 done, 5 & 6 started

Three interval workouts and two shorter workouts per week – ongoing

Work back into tracking exercise and consumption – ongoing

BONUS: Release Hangar 18: Legacy (if I get it back from the beta readers sometime this month, and depending on edits needed)

BONUS: Plot out and begin writing first book in new series
What are your plans for the rest of summer, whether or not you're doing ROW80? If you're doing this or some other kind of goal-setting, what's your strategy to get back on track if you're having trouble meeting all your goals?