This has been a tough week for me, writing-wise. I've been beating on this story that I've been sure was the next thing I wanted to write, for over a month now, and it just won't gel. I put in all of fifteen minutes on it last week, going through the motions of doing a couple exercises in Holly Lisle's Create a Plot Clinic. Even that was difficult. I just don't want to do it, and it's time I admitted that.
Trouble is, I'm not sure why I don't want to work on this story. Maybe I was never excited enough about it to begin with. Or maybe there's a problem in the story itself, that I haven't chosen the right main character, I'm too focused on theme (a first for me), or some other story problem I haven't yet figured out. But I was encouraged and gratified to find the following post on women's fiction author Anna DeStefano's blog today:
Today, Sunday, is a blog about the very hard work of resting. As exhausting as it is to put on a show the rest of the week, a Sunday of rest can be just as challenging.
Top priorities (for writers and readers and livers of life of all variations) include discovering core truths for our resting selves such as the following:
If you were the only one in your life, what would spend your Sunday doing?
If you could do only one thing today, and there were days left to do anything else, what things would disappear off your to-do list forever?
If you couldn't speak or spend time with another person today, what one thing would bring you the most joy and satisfaction?
If you had all the money or resources or whatever else you needed to make whatever your dream for this day of rest come true, what dream would you leave all the rest behind to achieve?
If you were free of all other expectations, if there were no consequences on your horizon tomorrow, what would you want most to have achieved by the end of this Sunday?
No matter how big or how small or how taxing your own private, personal, inner dream for this day might be, pursue it. That's the work that the best rests are made of. It' s a start at least, telling yourself you can have what feeds you most, no matter the nurturing everyone else in your life needs. We have to feed the inner beast every now and then, so she's ready to take on all those outward needs I eliminated in the list above, because they're about everyone else and not the us resting days should be about protecting.
via The Soul of the Matter: Sunday, Sunday…Rest with me, won't you? « Anna DeStefano's Blog.
I think this is what I need to do. Thank you, Anna, for giving me permission to step back, regroup, and relax.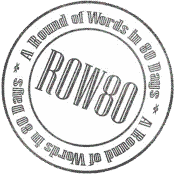 As for ROW80, I still managed to make some progress:
Two plot exercises for my next book – made a half-assed attempt at one, but not much.
Fitness activity 5x – got 4 activities in
Send out press release for Time's Enemy – Done!
Assignment for writing workshop, week 2 – Done!
Re-dye the lace for prom dress, and cut one of the four fabrics in it – Done!
This week, I'm going to step back, reevaluate, and relax. I'm also dealing with switching my migraine medications, which might make it tough to do much physical activity. I'll still look to do my workouts, but if I'm not feeling well, I'll give myself a break. So here are the plans:
Assignment for writing workshop, week 3 (having fun with this, so no problems there)
Cut the rest of the fabric for the prom dress
BONUS – activity and/or any progress on the new book, decisions made, etc.
What about you – do you ever need to just step back, regroup, and take it easy? What did you think of Anna DeStefano's suggestions? If you're participating in ROW80, how's it going?

Jennette Marie Powell writes stories about ordinary people in ordinary places, who do extraordinary things and learn that those ordinary places are anything but. In her Saturn Society novels, unwilling time travelers do what they must to make things right... and change more than they expect. You can find her books at Amazon, Barnes & Noble, Smashwords, Kobo, iTunes, and more.