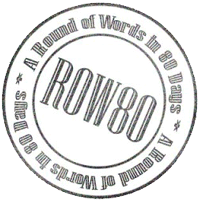 Not much to report this week. Had a good one as far as goals went, with most accomplished. The booksigning at Barnes & Noble was fun, if not very profitable (we're having a very cold weekend here in Ohio, and attendance was not high. Even the big-name authors didn't draw many readers).
Last week's results:
Design and print bookplates, stand-up placard, and excerpt brochures to hand out at book signing, plus signup sheet for reader newsletter
Collect and write front/back matter for Time's Fugitive – Author's Note, Acknowledgements, etc.

Investigate starting reader newsletter

Write product description and determine tags for Time's Fugitive; put together Book Info cheat sheet

Review one marketing book (I have four to either read or re-read)

Read last Golden Heart entry (#5 out of 5)

Three interval workouts plus two short workouts

Write one book review

Bonus: any additional blogs
I only got in two interval workouts plus one short. I'd planned to do the last short workout today, but ended up being gone all day. Not a good excuse, just a reason. And I wasn't feeling well earlier this week, hence why it and the interval workout didn't get done then. But the Golden Heart judging is done, and my scores turned in to RWA – yay! I also got all of my front and back matter collected for my upcoming release, so that's a big plus too.
For this week:
Critique a chapter for a writing friend
Book review
Additional work requested for side job website
Break down marketing task list into Yeses, Nos, and Maybes
Brainstorm some articles I can write for my newsletter
Review my last draft of my next book and get it ready for beta readers
Three interval workouts plus two short workouts
How did you do this week? If you're consistently not meeting all your goals, maybe you need to cut yourself some slack. Take an easy week, and jump back in next week. Or it may be that the goals you're choosing just aren't reasonable, given the other demands on your time. What do you think?