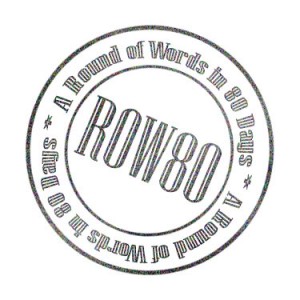 I knew I'd need to go easy on the goals this week. I did manage to meet all of my pared-down goals, so it all worked out. It wasn't easy – I had a push on one yesterday, and it was hard to motivate myself to do my workout, but I did it!
Complete Lesson 6b of How to Think Sideways

 – Done, although I sort of cheated on a couple parts. One involved reviewing my WIP to the point I've done it, and I haven't really started it yet, so that one was a gimme.

Cover design for Times Two

– Done!

Three interval workouts and two shorter workouts.

Done!
Hangar 18 is not going to be ready for release this ROW, as it's still with beta readers. I'd planned to release either it or Times Two, but decided to participate in a promotional opportunity in mid-June that doesn't make a release feasible. So I'm changing my goal to get it formatted and ready for release, but won't hit Publish probably until mid-July. So here are the overall goals:
Release Time's Fugitive, in both ebook and print – Done!

Complete Holly Lisle's How to Write a Series workshop – Done!

How to Think Sideways workshop – complete through Lesson 8 – on track!
Get Times Two (Time's Enemy/Time's Fugitive box set) ready for release as an ebook – on track!
This week's going to be another tricky one, as I have taken on a couple of side web design jobs. One is for my massage therapist, whose site I designed several months ago, but who didn't provide me any content until yesterday. The other is a new site for a builder who did a second-story addition for us about 10 years ago. So with working those in, here are the plans:
Work halfway through Lesson 8 of How to Think Sideways
Initial design for the builder's website
Publish and host the massage therapists' website if she gets the rest of the content to me
Three interval workouts and two shorter workouts
Work back into tracking exercise and consumption – minimum four days this week
How are you doing in this round of ROW80 – or if you're not a writer, or not doing the ROW, for this spring?