Hard to believe we're halfway through March already! Even harder to believe that it's only three days until spring – it was snowing buckets here earlier today!
This weeks has been relatively uneventful, which is not a bad thing. No news from Tennessee on the house. As far as the unwanted neighbor business goes, they just closed on the purchase of a large, adjoining lot. The landowner claims he's going to turn it into gardens, but no one believes him at this point. It doesn't change anything as far as his zoning change request, except that if he still wants the change, they'll have to re-apply at this point. So we're still in a wait and see mode there.
What I've Been Reading: Finally finished my novel last week, The Longview Chronicles: The Complete Saga by Holly Lisle. It took a long time because it was actually a boxed set of six books that started with a novella, and each one got longer. Book 5 was definitely a full-length novel, and not a short one either (at least it didn't feel short). But, it was well worth it. This is set in her Settled Space universe, a series I love. While it's an independent story, it links to the prior two books in the series, Hunting the Corrigan's Blood and Warpaint. The main characters from those novels appeared in the fifth book, which I had not expected and was a great surprise since I love them. However, it was probably more enjoyable since I'd read those books. This series is space opera at its best–fantastic worldbuilding of a dystopian society, and characters fighting to make a difference. I will note that this series is very dark, and contains graphic violence, so be aware if that's not your thing. It's normally not mine, but it's completely appropriate for these stories, and I doubt they'd pack the emotional punch they do without it. Highly recommended!
What I've Been Writing: I didn't quite make my goal this week, which was to write five days, for a total of 2500 words. I had a couple days where I just didn't feel like writing, so I only got four days in. I got 2015 words out of those however, so I'll consider that a "failing to success" as it's still not bad and moves me forward. I am getting a good feel for this new WIP, and completed the first scene.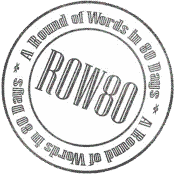 Which brings me to my quarterly goals, or ROW80 Round 1 Wrap-up. I know it's not quite the end of the quarter, but ROW80 is only 80 days, so it ends on Thursday and this is my last post before then. My goals were to finish Time's Guardian, my last WIP, and start on my new one. I did both of those. I have about 3600 words in on my new book, which is hmm…. far short of the 40,000 I'd hoped for! So what happened? Well, the first book ended up taking a little over 18,000 words to finish–a good bit more than the 5,000 I expected! I also went through a revision, which took waaaaay longer than I thought it would–pretty much the whole month of February. And ramping up to the 5k/week also took longer than I expected.
But still, that 22,000 words is more writing, done more quickly, than I've accomplished in years, so I'll consider that "failing to success." And I still have a chance to hit my BHAG (Bit Hairy Audacious Goal) of writing 150,000 words this year.
I also had a goal to complete two online workshops, although I didn't mention it in my 2019 Goals Post back in December. That goal I met.
This week I have a few things going on, so I'm going to shoot for what I did this week: four days, at 500 words/day, for a total of 2,000 words. And, keep up with the online workshop I started yesterday.
What about you–what's been going on in your life? Read any good books lately? And how have you been doing on whatever goals you might have, whether writing or otherwise? Please share in the comments–I'd love to hear from you!

Jennette Marie Powell writes stories about ordinary people in ordinary places, who do extraordinary things and learn that those ordinary places are anything but. In her Saturn Society novels, unwilling time travelers do what they must to make things right... and change more than they expect. You can find her books at Amazon, Barnes & Noble, Smashwords, Kobo, iTunes, and more.