I've been absent from the blog for a couple of weeks, but I have a good reason: my family. While I like writing my blog and chatting with those of you who comment, my family is my priority.
Nothing bad happened–I just had opportunities to spend time with family I don't see often, so that was more important. Two weeks ago, my daughter arrived home for Spring Break. She had a lot to talk about, so I wanted to spend that time with her, and the blog never got written. I thought about posting it on Monday, when she was off visiting friends, but got busy with typical Monday things. I could have pushed, but being kind to myself is best for my health, so I let it go.
Then last week was Easter, and I hosted the family gathering. My family is small, and Mom and I are old hands at planning ahead for these (we do the same thing every year, food-wise), so it's not a big stressor. We had the added blessing of hosting my mom's cousin, who lives on Vancouver Island and was here for the holiday. He's extensively well-traveled and well-read, and is a fascinating and fun person to talk to, and it was also fun to catch up on what's going on with his family. So, not a stressful day, but a busy one, between cooking, spending time with my family while they were here, and then cleanup. My mom and daughter help with that, but it's still a big job. So I decided to let the blog go once again.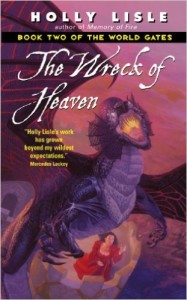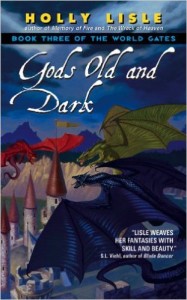 What I've been reading: I always make sure to take time to read, and I finished Holly Lisle's World Gates Series, which I binge-read. Book Two is The Wreck of Heaven, and Book Three is Gods Old and Dark. (Book One is Memory of Fire, mentioned in my last post.) This was one of those series that's so mind-blowingly awesome it could be depressing for a writer in an "I could never write something this good" sort of way. Luckily, I enjoyed it too much to think much about that. But wow, enormous stakes, heart-rending emotion, and one of the freakin' best villains I have ever read. You know, one of those that's horrendously evil, yet so well-developed we can still feel a twinge of sympathy and understanding of how he became that way. And an immensely satisfying ending that didn't tie up everything neatly into a bow, but where we knew the characters were on their way, with plenty of hope. Flipping AWESOME. If you like epic and/or contemporary fantasy, this series is a MUST read!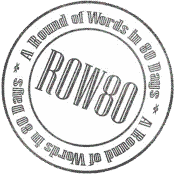 ROW80 Update: ROW80 Round One ended last week, and I didn't even realize it at first, LOL! I met some of my goals. I finished the first draft of Time's Dilemma, and got it to my beta readers. However, I did not finish the revision, because the beta readers found a lot more work it needed than I expected. So I am still working on that. Still working on the cover for it, too. Round 2 of ROW80 starts tomorrow, so my goals for that are to finish Time's Dilemma and get it to my publisher, hopefully in time for it to be released this quarter. I would like that to happen in time for me to get a start on the next long Saturn Society novel.
What about you–how are you doing on your goals so far this year? Do you sometimes have to shelve one thing you like to do for another priority? How has the weather been in your area, now that it's officially Spring? (Ours has been all over the place!) Have you read anything awesome lately? Please share in the comments–I'd love to hear from you!

Jennette Marie Powell writes stories about ordinary people in ordinary places, who do extraordinary things and learn that those ordinary places are anything but. In her Saturn Society novels, unwilling time travelers do what they must to make things right... and change more than they expect. You can find her books at Amazon, Barnes & Noble, Smashwords, Kobo, iTunes, and more.