Last week, I mentioned that I went to a write-in. I got 350 words written. Would've gotten more, if my sloooooowwww netbook hadn't taken half of our meeting time to start up, and connect to Wifi, or recognize my flash drive. Not cool. I don't do write-ins often, but it was fun, and I'd like to do something like that more often, so when I got home, I ordered a new laptop, a little 2-in-1 that can double as a tablet with the keyboard folded all the way back. It was on sale, and the special deal included a 7″ tablet for free. The laptop's not due until March, but the tablet came on Thursday. My dog's thoughts to the right… given what she did with my daughter's tablet, I'm keeping this one away from her!
One thing that is definitely getting old is the snow and cold. At work, we have a whiteboard used for announcements. The only thing on it since after Christmas:
"It's cold!"
Yeah. I don't know who's NOT tired of it, except maybe ski slope operators and enthusiasts. Although, I am grateful we have not been dumped on like Boston or other areas. I am also grateful for my winter tires!
Isis doesn't care about the cold, and still expects her walk. OTOH, once out, she doesn't seem to mind when DH cuts them short.
I spent much of the week collecting the information and reports I needed for our tax accountant. It was not difficult, because I keep everything in Quickbooks and in general am pretty organized with my filing. But it does compound, given the fact that we bought two rental properties and established a holding business for each, which means DH and I now own five small businesses when one adds in my writing. O.o Luckily, our accountant makes house calls as a matter of course and a little (or even a lot of) snow does not deter him–in fact, he was early to our meeting yesterday. There were just a couple of additional items I needed to look up for him (hence the reason he comes to his clients), and then he was on his way, taking a big load off of me.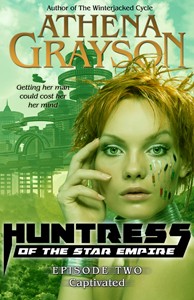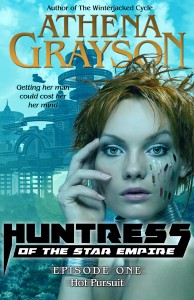 What I read this week: Huntress of the Star Empire, Episode One: "Hot Pursuit," and Episode Two: "Captivated" by Athena Grayson. This is a romantic science fiction story, and another new thing for me: it's the first time I've read a serial as it's released (or soon to be, as the case is with Episode Two), and it's just what I expected: fast-paced, lots of action, and a complete story thread in each episode, but with other threads (and the main story) left hanging. (Which, since I expect it, doesn't bother me.) Interesting characters, lots of sexual tension for the romance fans, and fascinating worlds for the sci-fi fans, this series has it all, and I can't wait for the next installment! I'm also doubly glad I had the opportunity to design the covers, because it means I get the story segments in advance. Episode One is out now, with a new episode to come every Thursday through May.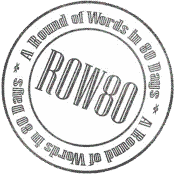 ROW80 Update: My plan for this past week was to get two chapters of changes marked in; I was able to get three (having a work holiday helped). This week, there's not a lot going on, so I'm shooting for four, with a stretch goal of six.
What about you–is it cold and snowy where you are? If so, are you sick of it? If you're in the U.S. (or an expat), have you filed your taxes yet? Have you ever read a serialized novel? If you have, do you like them? If not, would you try one, or wait until the whole season (or novel) is out? And whether or not you're a writer, how are you doing toward whatever goals you might have? Please share–I'd love to hear from you!

Jennette Marie Powell writes stories about ordinary people in ordinary places, who do extraordinary things and learn that those ordinary places are anything but. In her Saturn Society novels, unwilling time travelers do what they must to make things right... and change more than they expect. You can find her books at Amazon, Barnes & Noble, Smashwords, Kobo, iTunes, and more.