Dayton, Ohio is not the place to go for fine dining. Don't get me wrong – we have four-star restaurants here (I think – LOL), but the vast majority of our local eateries are chains. Marion's Piazza is no exception – it too, is a chain, but it's a local chain, and one of the few food things unique to our area. As such, it's one of my go-to places to take out-of-town visitors.
 
Marion's is a thin crust pizza, but not what I'd call New York style – the crust is crispy. Its other distinction is one that a college friend from the Cleveland area immediately noticed, that until then, I had no idea was unusual (and maybe it isn't, now). Because when I brought the pizza to our table, he looked at it with an utterly baffled expression. "It's cut in squares."
 
Me: "Um, yeah?"
 
My friend: "I've never seen a pizza cut in little, bitty squares."
 
Me: "They don't do that in Cleveland?"
 
My friend: "No!"
 
Must be a Dayton thing, because our other local pizza chain, Cassano's, also does thin crust pizza cut in little, bitty squares.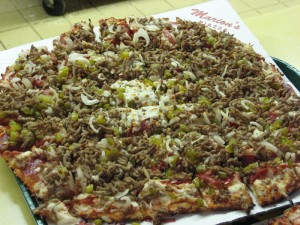 Flavor-wise, Marion's is like no other. There's not a lot of sauce. While there are plenty of toppings, they're not piled on. It's not spicy – even the sausage is very mild. And that's one of the best things about Marion's. The sausage has a really good flavor, and it's crumbled over the entire pizza – no big chunks. Many of my out-of-town friends I've brought to Marion's insisted on making it a regular stop on subsequent visits, and one friend from Cincinnati even used to get a whole, large pizza to take home for later whenever she came up here. Marion's pizza microwaves very well and tastes great, even though the crust is no longer crisp.
 
They have other stuff too, but I like the pizza so much I never order anything else. I usually get pepperoni, sausage and mushroom, although once in a while, I get ham and sauerkraut, which I thought sounded gross until a coworker gave me a piece to try. Awesome! Soft drinks are Pepsi products, a big plus for me (Mountain Dew!), but they also have Coke and Diet Coke. They have a great lunch special – half of a 9″ pizza with two ingredients, and a 24 oz. drink for $4.50.
 

View Larger Map
I can't remember when I first ate a Marion's pizza, but it was when I was a little kid. They've been around since 1965, according to their website, and their first location was at the corner of Shroyer and Patterson Rd. near the border of Dayton, Kettering, and Oakwood. By the eighties, they had seven locations, which are all still around. At the original location (and some of the others, I think) they have photos of famous people all over the walls. Most of these are performers who visited our area to perform with the Kenley Players, a now-defunct local theater group. Many of these people were from before my time, but I always recognized a few.
 
Marion's doesn't deliver – it's mainly an eat-in place, although a lot of people call in and get stuff to go. All locations are spacious, good places for a large party or gathering. If you go, take cash – they don't accept checks or credit/debit cards.
 
And my friend from Cleveland? He ate the pizza and loved it – and yes, he's been back.
Read more at the My Town Monday blog
If you're from the Dayton area – or have been there, and tried Marion's – do you like it? If you've never been there, what are some of your favorite, unique hometown eateries?
Pizza photo via Wikipedia, Creative Commons license. Restaurant photo via Google Street View.