They've been busy adding new features, exhibits, and fun things to see at Dayton's Carillon Historical Park these past couple of years. Just this past weekend, the park opened several new exhibits, including the Carousel of Innovation. Last summer, they opened the History on the Hill exhibit in the old carriage house, and created a series of trails and steps on the bluffs behind the building. History on the Hill begins here.
Overlooking the Great Miami River, the bluffs were created as part of glacial recession from the last ice age. The Dayton area sits on the terminal moraine, which is the farthest point south reached by glaciers during the last ice age. The exhibits inside the building provide some drawings and details about this, as well as more recent history. For example, the park site belonged to NCR (The National Cash Register Company) prior to the park's construction, and the area near the bluffs was used as a target shooting range.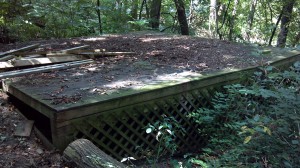 The trail winds up the hill and around the parking lot, close to South Dixie Drive. It then leads past the neighboring Calvary Cemetery, to a picnic shelter of sorts called an Andirondack hut. In the early 20th century, the bluffs also housed a sanitarium, where smallpox patients were quarantined. The remants of a floor here might have been part of this building, I'm not sure.
The trails are a neat little walk (I'm guessing the entire trail is maybe a mile, probably less). If you go, make sure you wear good shoes – there are several steep areas, and one of the staircases isn't completed. For these reasons, the trails themselves aren't suitable for people with mobility problems, although there is a ramp up to the building.
Near the end of the trail on the west side of the exhibit building is a long, corrugated, black plastic pipe of about 30 inches in diameter. It goes down a steep slope alongside one of the staircases for probably a couple dozen yards or so. The park map calls this the Glacial Adventure. It's not suitable to slide down, so I'm not sure of the reasoning behind that name. There are also several areas of the trail that are obviously not yet complete, as they're blocked off by caution tape.
Despite its not-quite-completeness in a few places, History on the Hill is a fun little diversion and is certainly worth a look next time you visit Carillon Park.
If you live in the Dayton area, have you check out History on the Hill yet? If not, do you have something similar in your area?
More at the My Town Monday blog