Before Area 51, there was Hangar 18.
Yes, there was a small airfield in the Groom Lake vicinity that was used during WWII as a test and training facility, but Area 51 as a super-secret research and development facility didn't really exist until the 1950s.
The Roswell incident, in which according to legend, an alien spacecraft crashed, happened on July 8, 1947. (It was later pretty much accepted that what really crashed to earth was cold-war intel equipment or a weather balloon, but go with me here…) Also according to legend, U.S. military personnel recovered the wrecked spacecraft and several alien bodies from the site, which was closed to the public for a good while after the crash.
The military shipped the bodies and wreckage were shipped to the then-Army Air Corps' Foreign Technology Division, located at Wright Field, a few miles east of Dayton, Ohio, which would later become Area B of Wright-Patterson Air Force Base. Supposedly, the spacecraft was stored in Hangar 18. The bodies were placed into cryogenic storage, for later research.
Of course, few who work on base today admit to believing any of this. But it's fun to think about, and a few years ago, The History Channel did a wonderful documentary on the legends and the conspiracy theories that abound. The show was pretty convincing, and the book they based much of their material on (Exempt from Disclosure by Robert M. Collins) was even more so.
Interestingly enough, (but not surprisingly) there is no Hangar 18 at WPAFB, nor has there ever been, at least that I could find. There is a Building 18 complex, which houses the Air Force Research Laboratory's Propulsions Directorate – folks who would be most interested in the alien spacecraft, had there been one.

I don't really believe there were alien bodies and spacecraft bought to WPAFB, and chances are, what really crashed to earth near Roswell was indeed some kind of surveillance equipment – highly classified, so of course the military personnel would not have been able to confirm or deny its existence, or any details about it.
But the legends made me think: what if it was real? What if alien bodies were shipped back here? And what if they weren't dead, but alive, in a suspended state? And what if one were to awaken, decades later? That's the premise behind my upcoming science fiction romance, Hangar 18: Legacy. What's even cooler is that, according to Exempt from Disclosure, the aliens  did indeed have significant psychic abilities, which was one of the key elements of my novel even before I'd researched it.
Want to know more? Check out Exempt from Disclosure, or watch this 20-minute video from the The Internet Archive. And for an entertaining take on the legends, give Hangar 18: Legacy a read when it comes out this summer. To be notified of its release, sign up for my newsletter, with the form on the right (visit www.jenpowell.com, if you're reading this in a feed reader). Here's the scoop: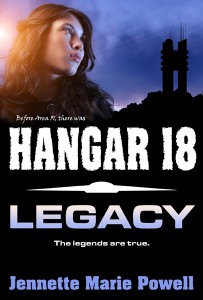 U.S. Air Force research psychologist Adam Keller is an empath, accustomed to sensing the thoughts and emotions of others. Because of his gift, he keeps people at a distance. When a disembodied presence full of anger and fear invades his mind and demands rescue, dark thoughts of death threaten to overwhelm Adam. Then he meets a woman whose attraction to him quiets the voice. All he has to do to keep his sanity is risk his heart and experience the emotions he's long denied himself.
Lisa Stark wants nothing more than to finish the subliminal messaging software she's worked on for over a year. When someone wants it badly enough to kill for it, Adam senses Lisa's in danger and comes to her rescue. Lisa fights her feelings for the sexy officer with an uncanny ability to guess what she's thinking, but their attraction to each other grows, and not only because Lisa's the only one who can warm Adam's chilled body and soul. When he discovers the source of his mental invasion is an extraterrestrial thought dead for decades, Adam realizes that Lisa's software is the key to releasing the being – if he can gain her trust and keep her alive long enough to finish it.
---
I'd love to hear from you! Do you think there might be some truth to the stories of alien beings and spacecraft recovered from Roswell? Do you think there might still be information that the U.S. government is hiding? Please comment, and let me know what you think!