EDITED Monday, October 22, 2012: This blog post is now nearly a year old. I have nothing to do with this event; this post is just an informational article sharing about something cool that happens in Dayton. If you want to volunteer for the Feast, or otherwise want more information, do not email me – I don't have the answers you're looking for. I'm guessing you found this blog post through a Google search, so I suggest you try some of the other links that you found while searching. Thank you!
---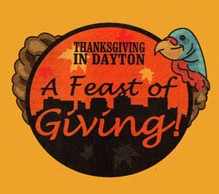 Sometimes, things happen in Dayton that restore our faith in the human race.
One of those is the Feast of Giving.
Now in its third year, the Feast of Giving is a full-blown Thanksgiving dinner – turkey with all the trimmings – held at the Dayton Convention Center, for FREE. Although some people emphasize those who have financial need, or those who have no one to spend the holiday with, all are welcome. The event's sponsors stress that they want  "people from all walks of life to attend." The primary sponsors are area businesses, including ABC 22 & Fox 45 Dayton's News Source, Dermatologists of Southwest Ohio and Lastar Inc., manufacturer of low-voltage cabling and the parent company of Cables to Go.
Donations are accepted from others as well; click on the Dayton's News Source link for donation information. Over 3,500 people attend the event each year, and many people volunteer to help. Volunteers are capped at 500, and every year, several times that offer to volunteer. As many as 2,000 would-be volunteers have been turned away in the past, by the Feast and its predecessor.
While the Feast of Giving is only in its third year, it follows a long tradition started in 1969 by Arthur Beerman, founder of Elder-Beerman stores. Mr. Beerman had suffered a heart attack earlier that year. While hospitalized, he received hundreds of get-well cards. After he returned home, he started the dinner  "to thank the good Lord for letting me get home for Thanksgiving," and also to give back to the community that had been so good to him. He died the following year, but his family and the Beerman Foundation continued to host the event every year until 2009. According to the Dayton Daily News, "The annual Thanksgiving dinner was believed to be the largest of its kind in the nation having served an average of 4,000 turkey dinners per year." In 2009, the Foundation's board announced that they would not be hosting the Thanksgiving Dinner, as they had determined that its funds would be more effectively spent on charities and programs with a broader scope.  That year, the above sponsors combined their funds and efforts to keep the tradition alive with the first Feast of Giving.
The Feast of Giving will be held from 11 – 2, and tickets are not required. The convention center is offering free parking, and Dayton RTA offers free bus service to and from the event.
I'm blessed to have family in the area, and someone has always been able to host (this year, me), so I have never attended the Feast of Giving or the Beerman Thanksgiving Dinner. But it's cool to think that the biggest event of its kind is right here, every year, for anyone who wants to go. If you live in the area, have you ever attended? If you don't live around here, does your community offer anything like it?
Photos via the Feast of Giving page on Facebook
More at the My Town Monday blog