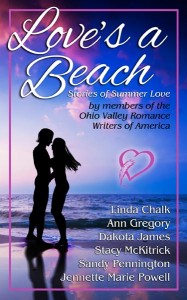 I did fairly well on my goals this week, one of which was to proofread and finish the formatting of the anthology. Well, I finished that a few days ago, and the publisher already has the ebook up! It features eight "beach reads" stories by five of my friends and me, plus some poetry. Here's the info:
Warm up your winter-or any season-with this anthology of stories of springtime and summer love by members of the Ohio Valley Romance Writers of America. From heartwarming to mysterious, comical to suspenseful, these romantic tales show that there really is someone for everyone. Whether it happens today or a hundred years ago, from the Atlantic shore to the American West coast, there's something magical about the finding love when the warm breezes blow.
In "Tupelo Honey" by Ann Gregory, Raul and Desdemona aren't young, and they don't have stars in their eyes. They've both loved and lost. But maybe hot tea and warm milk sweetened with tupelo honey can reawaken their hearts.
Will riding the Ferris wheel be worse than admitting her fear? Violet must decide when the love of her life invites her along in "The Ferris Wheel" by Stacy McKitrick.
Hunger was no game to exhausted off duty marshal Hennesey James. All he wanted was to sink his teeth into something hot, juicy and fried. Instead he got a heaping platter of attitude from a waitress with a piece de resistance all her own in "Swizzle Stick" by Sandy Pennington.
In "The Wish" by Stacy McKitrick, Paige makes several wishes on her fortieth birthday and they all include office hunk Mike. But will she be adventurous enough to see if any of them can come true?
In "Titanic Love" by Linda Chalk, Stefan's seemingly endless wait to be reunited with his family is prolonged when news of Titanic's sinking reaches America. Is it love or madness that keeps him at the pier waiting for news?
Carmen is fed up with Harry, and decides to kill him, in front of witnesses. And she gets away with it! Find out how in "The Death of Harry" by Ann Gregory.
A disgruntled cop battles his urge for the cigarettes he quit, and his attraction for the hot new partner he doesn't want, while he investigates a school ice cream theft. Then he finds there's more to the crime than he thought—and more to his partner, too, in "Sam, Kate, and the Lunch Lady's Secret" by Dakota James.
In "Time's Tempest: The Storm" by Jennette Marie Powell, a headstrong handyman takes his first trip back in time in search of his own past. Instead, he winds up in the storm of the century, on the run from a madman from the future, with a woman he doesn't remember meeting—or falling in love with.
It's currently available at Amazon, Barnes & Noble, Smashwords, with other retailers coming soon. The publisher says they're waiting for print proofs, and the print version should be out within the next week or so–just in time for the Valentine's Day program Stacy McKitrick and I are participating in at the Dayton Metro Library.
I always forget how long that stuff takes, so I had to really push to meet my writing goal, especially since I upped it. I ended up doing only 1000 words Sunday-Friday, and wrote the other 2,500 yesterday. But I got them done! Fitness, I got a couple workouts in. Not to meet my goal, but something. I have done a little better getting to bed at a decent time this past week, so haven't been quite as tired, and that helped too.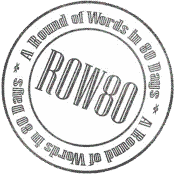 The formatting and proofing work has pushed a bunch of other stuff aside, too–namely, a couple of small web development projects, a cover design for a my first reader.
So for this week, I'm sticking with the same writing goal, and adding in one of those that got pushed off:
3500 words

Finish one web development project
Fitness 3-4x
What about you–do you forget how long things take, and then have to push everything else aside? How does that work out for you? I have to admit, it doesn't always work out so well for me! Whether or not you're participating in ROW80, have you knocked any big tasks off your to-do list? How are you doing on what's still there? Please share–I'd love to hear from you!

Jennette Marie Powell writes stories about ordinary people in ordinary places, who do extraordinary things and learn that those ordinary places are anything but. In her Saturn Society novels, unwilling time travelers do what they must to make things right... and change more than they expect. You can find her books at Amazon, Barnes & Noble, Smashwords, Kobo, iTunes, and more.