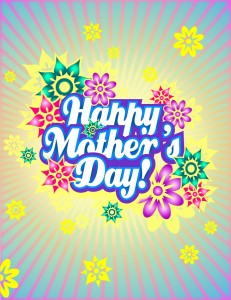 It's what we learn, as writers, that we should be putting into our stories: all the battles, the falling-in-love, the sexytimes, the tension; none of the teeth-brushing. In my case, it's Life: the Good Stuff that's keeping me from meeting my ROW80 goals, or in the case of next week, demanding that I once again set the bar low.
I'm talking things like end-of-year school programs, concerts, senior recognition programs, and planning a graduation party. We had each of those last week, and more this week. In addition, this week is Birthday Week: me, my husband, and my sister-in-law all have birthdays this week, plus today is Mothers' Day. So a lot of life-interference, as far as the writing goes, but no complaints here, as it's all good.
Despite the busyness, last week didn't turn out too bad:
Writing: partial – complete research for short story & and do initial read-through – I researched, and got about 1/3 of the way through the read-through.

Fitness: partial – 5 workouts – got 3 in.
The giveaway has ended. Thanks for your interest!
I also got graduation announcements out, and got the brochure for my new-business-owner relative completed and off to the printer.
So not a bad week at all, despite the lack of green above.
We have a family get-together today, and another one evening later this week. There's a band concert another evening this week. We also need to have a family meeting to pin down the rest of the details for the grad party, so I'm setting the bar even lower this week:
Writing: complete initial read-through and mark-up for revision
Fitness: 3 workouts
 What about you? How do you manage to keep going on your normal activities when life's crazy all around you? Even when it's a good-crazy? I'd love to hear from you (and could use the tips)!

Jennette Marie Powell writes stories about ordinary people in ordinary places, who do extraordinary things and learn that those ordinary places are anything but. In her Saturn Society novels, unwilling time travelers do what they must to make things right... and change more than they expect. You can find her books at Amazon, Barnes & Noble, Smashwords, Kobo, iTunes, and more.