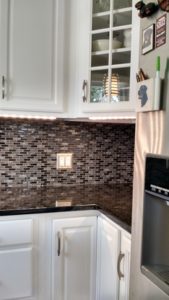 I didn't blog last week, because just as I was about to get started, my husband came in and said, "Let's do this backsplash." So we worked on that, and by the time we were done, I realized I didn't really have anything to report here–I didn't even finish a book to report on–so decided to just skip it. But hey, I learned something–how to use a tile cutter! I cut while he installed. It came out pretty well, IMO (the pics do not do it justice). Still needs to be sealed and caulked, but mostly done.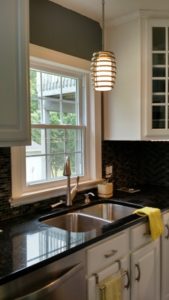 The new window frames also need to be caulked. Since the windows need to be clean for that, I cleaned them yesterday. Wow, what a job! With all the construction dust on top of years of grime, it probably took me two hours to scrub two not-very-big windows. With my fatigue, I had to take a lot of breaks (the two hours is not counting that). But they're clean now, and look great! I also got the last of the dishes unpacked and put away.
After caulking, all that's left to do is paint the trim, the basement and back doors, and touch-up. Then the dining room needs to be detail-cleaned, because everything in there is coated in dust… and the living room too, with slightly less dust. One of these days, I will have time and energy to write again.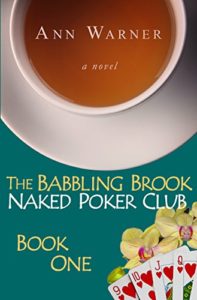 What I've been reading: The Babbling Brook Naked Poker Club by Ann Warner. This is a cozy mystery, with a women's fiction feel–not usually my thing. But Ann is a friend, and one of my earliest critique partners, and I've read several of her books that transcended being "not-my-thing." This one was no exception. It's the story of a group of ladies in a retirement home who get together to play poker, the "naked" part being figurative–the loser has to share a personal story. It follows two of the ladies, plus the activities director, as they try to figure out who's been stealing valuables in the community, with a sweet romance developing between the latter and the cop the group befriends. It was mostly a lighthearted and fun read, though the stakes became pretty high near the end. So good I already bought book 2–definitely recommended!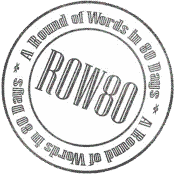 ROW80 update: while there's been progress here over the past two weeks, it's mostly been confined to the kitchen (which I am happy to say, I'm already enjoying). I'm trying to get to the computer a little each night, but by the time I do, I'm too tired to do much (my fatigue is mental as well as physical). Now that the big parts of the job are done, I'm hoping that can change. After all, cleaning can be done fifteen minutes at a time. So my goal this week is relatively small: finish the scene I started, that I have about 500 words written.
We're also in the final stretch of ROW80 Round Three. Since I blog on Sundays, this is the wrap-up for me. So how did I do on my quarterly goals? Well, I got the revising done, so that's a big one accomplished. Now I just have to finish the book. I'd have liked to have done that, but there has just been too much going on. So that's getting moved to Round 4, along with several other goals that didn't get done this quarter. I guess I just had no sense on how time- and energy-consuming this work would be, even though my husband did most of the major work.
What about you–what's been taking up your time lately? Read any good books recently? How are you doing on whatever goals you might have, whether writing-related or not? How do you manage a big task? Please share in the comments–I'd love to hear from you!

Jennette Marie Powell writes stories about ordinary people in ordinary places, who do extraordinary things and learn that those ordinary places are anything but. In her Saturn Society novels, unwilling time travelers do what they must to make things right... and change more than they expect. You can find her books at Amazon, Barnes & Noble, Smashwords, Kobo, iTunes, and more.