Last week, I was overwhelmed – and the holiday season was just beginning! My writing was suffering – there just weren't enough hours in the day. It was stressful, and all I wanted to do was play computer games.
That was not acceptable. Something had to be done.
I looked at my to-do list, which had grown to epic proportions. Each day, there were more things on it than anyone could hope to accomplish in the time I had! I remembered an email I'd read – from the Flylady list, I think – that said we tend to put far more on our lists than we can possibly do in a day. I had a lot of things on mine that had been on there for months, and I still hadn't gotten to them!
It was time to be ruthless. Anything that wasn't really that important was gone.
Other tasks – stuff to do when I had some spare time (LOL) or after New Year's, when I planned to kick my book promo efforts up, went onto another, separate list.
Stuff I did every week, and had finally developed into enough of a habit that I didn't really need it on the to-do list anymore, also went bye-bye.
My stress level immediately went down.
Now, the list has expanded once again, but a lot of that is one-off, holiday tasks. And a lot of those are easy, little things that don't take a ton of time, but that I might not get to or remember if I don't note them. And the weekly list? Down to four things at the moment, included in the above.
What's your to-do list look like? Do you routinely put way too much on it? Or do you make one that's more realistic – if you make one at all? Any more tips for managing that list? Please share!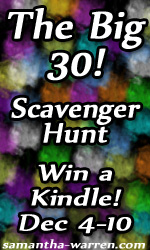 Just for Fun
I am participating in a blog scavenger hunt, posted by one of my writer colleagues, Samantha Warren. Samantha writes fantasy, and is turning 30 today. To celebrate, she's hosting a week's worth of scavenger hunt fun and prizes. The grand prize is a new Kindle e-reader! There are a bunch of other cool prizes – one or two every day, including an e-copy of Time's Enemy. So stop by and wish Samantha a happy birthday, and check out some of those blogs to see if you can answer a few questions and win!
ROW80 Update:
I did not post a Wednesday ROW80 update this week, as I had nothing to report. That will probably continue to be my pattern, as the Wednesday blog post update is something else I'm taking off my list.
I did meet my goal of getting Chapter 17 revised – wow, was that one a lot of work! – and I exceeded my type-in goal, and completed two chapters.
However, this pace is not satisfactory. So this week, I want to:
Finish type-in through Chapter 9. Type-in is something I can do while the TV's on, and interruptions are much less of a problem, so hopefully this goal is within reason.
Get Christmas decorating done
Order Christmas cards
Figure out gifts
Begin online shopping, especially gifts that are needed sooner than Christmas for events, party exchanges, etc.
By the way, my overall goals have been shot to hell, a long time ago. I didn't realize how badly until I just now looked up the original goal post. Stop laughing! Let's just refine the goals right now. I just want to get this edit done, and out to the beta readers. That's i! And I still fear it may be too ambitious, but I'm going to try, because readers are waiting for this book! If that's not motivation, I don't know what is.
How are your goals coming?