Yes, it's ROW80 check in day, but first, . I have a special treat for my blog readers. My friend Jim Winter is here today to share one way an indie writer can put out a professional product in today's publishing world without breaking the bank–something I was glad to help him with! And now, heeeeerrrreee's Jim….
---
With publishing changing around us, authors are learning they have to do more for themselves. But covers are expensive and not easily done. Editing moreso. The average editor will charge around $900 for a 90,000-word manuscript. What's the broke author to do?
Barter is your friend. You likely have skills another writer needs. They have skills you need. For instance, many of us are not artists. I know I'm trying. I'm getting better at using GIMP, an open-source alternative to Photoshop. But until I can do more than one cover, I need to have someone else do our covers.
That is where our lovely hostess Jennette has stepped in. Jennette needs something every writer needs: Editing. Never edit yourself. (That's not to say don't do revisions. You should do some clean-up before letting anyone see your work.) At the very least, a beta. If you understand story structure, genre, and, most importantly, grammar, you can do this for other writers. It's a skill every writer should learn anyway if they want to improve their craft.
Jen needs a beta read for her current works in progress. I needed to replace the covers I made for my Nick Kepler series. They were… okay. Unfortunately, when I decided to release them in print, the city skyline pixilated. Jennette and I went back and forth on cover ideas for Bad Religion and came up with something that changed the entire branding of the series. Now all the covers have a similar look and feel. What did I pay her?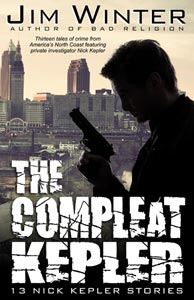 I'm to take a red pen to some of her work. The only money exchanged was for licensing fees on the cover photos.
Barter is not perfect, though. You have to have something to trade the other writer. You need to pick someone who can do what you need them to do, and vice versa. Not everyone can edit or format a book or make impressive covers. Choose carefully. This is your business, whether you think of it that way or not.
One benefit of barter is that, if you do something enough for other people and get really good at it, you have a new line of business. Many editors and cover artists I know started out this way.
Embrace barter. It's an important tool for the independent writer.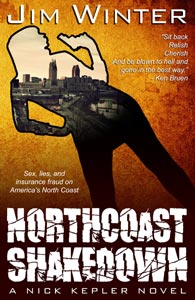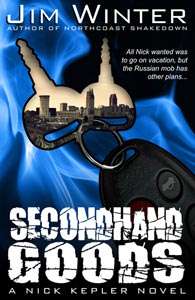 About Jim: Born near Cleveland in 1966, Jim Winter had a vivid imagination – maybe too vivid for his own good – that he spun into a career as a writer. He is the author of Northcoast Shakedown, a tale of sex, lies, and insurance fraud – and Road Rules, an absurd heist story involving a stolen holy relic. Jim now lives in Cincinnati with his wife Nita and stepson AJ. To keep the lights on, he is a web developer and network administrator by day. Visit him at http://www.jamesrwinter.net, like Jim Winter Fiction on Facebook, or follow him on Twitter @authorjimwinter.
---
Jennette says: The original covers on Jim's Nick Kepler books were not serving his books well. Covers need to not only draw attention in a crowded marketplace, they also need to communicate genre and the overall tone of the book, which the original covers did not do. I have a Bachelor's Degree in graphic design and worked in that field for over ten years before transitioning into software, but even someone without that kind of experience can pick up some design skills with practice, some trial and error, and possibly some training. I've heard good things about Dean Wesley Smith's online workshop on cover design from authors who've taken it. Jim is definitely getting better with practice, as The Compleat Winter cover shows, and I've no doubt he'll continue to improve.
On the other hand, not everyone has the inclination or the interest to take on the learning curve that designing a good book cover entails, and there's nothing wrong with that. Much better to pay someone–or barter!–and give your book the best chance possible in an increasingly difficult market.
Jim has a new release out–The Compleat Winter, a collection of crime fiction short stories, available at Amazon, Barnes & Noble and other online retailers in both ebook and print. His Nick Kepler series and short story collection, and other works are available there as well. His books are action-packed and entertaining with a good dash of humor, so if you like crime fiction, check them out.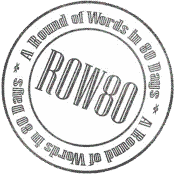 As for my ROW80 update, I wrote 4000 words on the WIP this week, so that's a win! Didn't hit the fitness or the website project, but I made good progress on the latter.
What about you–if you're an indie author, do you design your own covers? I do my own–for my publisher. 🙂 Whether or not you're a writer, have you ever bartered skills you're good at for ones you're not? Got questions about Jim and my bartering process? (Just an FYI–I'm booked for at least the next year). If you're participating in ROW80, we're about halfway through the round–how are you doing? Please share–I'd love to hear from you! And if you have questions for Jim, I'm sure he'll be happy to pop in and answer.

Jennette Marie Powell writes stories about ordinary people in ordinary places, who do extraordinary things and learn that those ordinary places are anything but. In her Saturn Society novels, unwilling time travelers do what they must to make things right... and change more than they expect. You can find her books at Amazon, Barnes & Noble, Smashwords, Kobo, iTunes, and more.