We had a nice Christmas, but like always, I'm glad it's over. I am blessed in that there is not a lot of drama in my family, and though I host dinner, everyone chips in with the food and no one complains about anything (well, nothing related to dinner or each other). My husband and daughter went to Staples to shop for me, LOL. They got me a new desk chair for my Internet computer, which was sorely needed, and filled my stocking with things like pens, sticky notes, and a few small treats. Money from my parents will undoubtedly go for writing workshops–always appreciated!
Isis got a candy-cane-shaped rawhide, which allowed everyone else to eat without being bothered.
The next day, we got a houseguest–a furry one with four legs and a tail. We are dog-sitting for a neighbor, and their dog and Isis get along well together, so we just brought her back to our place.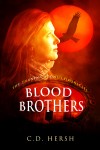 What I read this week: One thing nice about having a few days off work is more time to read! I read several short works, both fiction and nonfiction, that I've had for a while. I also finished the novel I started two+ weeks ago, Blood Brothers by C.D. Hersh. This is urban fantasy, and the sequel to The Promised One, which I really enjoyed, and discussed here. I like the shapeshifter mythology in these books, because it's different: rather than people who shift into one type of animal (i.e., werewolves), these folks can mimic other people as well, so you can imagine the kind of havoc that power raises in the hands of less ethical folks. Add in a good twin-evil twin scenario, and things get even more interesting. In addition to continuing the relationship between the main characters from the previous book, it also had a nice romance subplot featuring an older couple, which I find I like more as I get older LOL.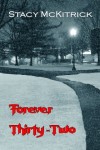 I also read a couple of short stories. One I'd been wanting to get to for a while, "Forever Thirty-Two" by Stacy McKitrick, was the prequel to her vampire romance, Bite Me, I'm Yours, which I beta-read probably a year ago and really enjoyed. So I knew this wouldn't disappoint, and it didn't. "Forever" is the story of how the vampire hero in Bite Me was turned, decades before the novel takes place. Fun to see the background, and I loved the bit of justice in the circular plot ending. You can download "Forever Thirty-two" for free from Stacy's website.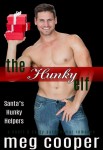 I'm not a big reader of holiday stories, but I do like one occasionally, and on Christmas night, I was in the mood for one, so I downloaded Meg Cooper's erotic romance short story "The Hunky Elf." Very cute, and definitely a fun read that perfectly fit into the Santa mythology and feel-good spirit of giving, along with some good steamy stuff.
In nonfiction, I went through some of the books from the NaNoWriMo Writer's Pack that StoryBundle offered a few weeks ago. These included Killing the Top Ten Sacred Cows of Publishing by Dean Wesley Smith, The Pursuit of Perfection and How it Harms Writers by Kristine Kathryn Rusch, and Drawing on the Power of Resonance in Writing by David Farland. The first two are collections of blog posts but updated and organized, which made for a very worthwhile read even as a repeat. The Resonance book brought up some concepts I hadn't thought of or even heard in workshops before, and while not as immediately useful with my writing process, was also worthwhile.
ROW80/Writing Update: ROW80 is on hiatus until January 4, but I'm still writing! Why? Because it's fun! Of all my writing goals for this year, one of my primary ones was to find the fun in writing again, and I have. I've written something every day this week and the one before, even if only a couple of sentences, and on Christmas, I got 1500 words written after my family left, my daughter went to visit a friend, and my husband and brother went to the garage. Other than that, it was one of those weeks where it didn't feel like I got much writing done. But when I checked my log, I'd completed a new scene, and it added up to 3500 new words. So a big win! So this week's plan is to keep up that pace. I only have to work Monday and Tuesday, so that will help.
What about you–did you have a nice holiday? Any houseguests? If you celebrate Christmas and exchange gifts, what did you get and/or give? Read any good books lately? And what are you looking forward to in 2015? Please share–I'd love to hear from you!

Jennette Marie Powell writes stories about ordinary people in ordinary places, who do extraordinary things and learn that those ordinary places are anything but. In her Saturn Society novels, unwilling time travelers do what they must to make things right... and change more than they expect. You can find her books at Amazon, Barnes & Noble, Smashwords, Kobo, iTunes, and more.