A couple months ago, I attended a fun, regional readers and writers' conference, Lori Foster and Duffy Brown's Readers and Authors Get Together. They had a great, well-attended book signing, where I met Allyson Young, who sat beside me. Allyson was  gracious enough to give me a copy of Wishes, one of her erotic romances.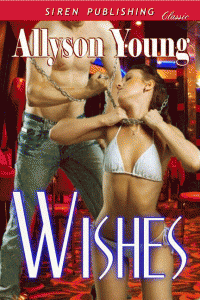 I don't read a lot of contemporary romance, erotic or otherwise, and have to be in the right mood for it. When I do dig into one, I expect characters to face real issues and have emotional baggage, and Wishes did not disappoint!
Wishes is the story of Kennedy, a young office manager who has just moved to San Antonio to join her best girl friends who live there. When her friends celebrate with a night on the town, Kennedy's thrown for a loop when she finds it's not just for drinks and dancing: they take her to a BDSM sex club. When she witnesses some of the "performances" at the club and bursts out laughing, she attracts the attention of Graham, one of the owners.
Graham is not amused at Kennedy's outburst, and when he confronts her, decides he wants to get to know her better – and teach her a few lessons while he's at it. Kennedy's immediately attracted to Graham, but can't oblige his need for control – at least, not at first. But Graham whittles away at her objections, and in the process, discovers a few things he never knew about himself. Kennedy too, confronts her past, that she'd thought she'd made peace with, and there is the best part of the book: the emotions and conflict, not just between the characters, but within themselves. Kennedy has a good reason to be uncomfortable with the idea of being dominated, just as Graham's background gives the reader a good insight into why it's so important for him to be in control. Just as both are beginning to give in to each other and love, a rude awakening appears at the club, in the form of an old flame of Graham's – complete with his toddler son.
Wishes is without question erotic, but it doesn't shortchange the romance. If you like a steamy, explicit romance that's all about the emotions and the development of the relationship between hero and heroine, pick up Wishes. You'll be glad you did!
Do you read erotic romance? Got any good ones to recommend? Or if not, what else have you read lately that's good? I read all kinds of stuff, so bring 'em on!