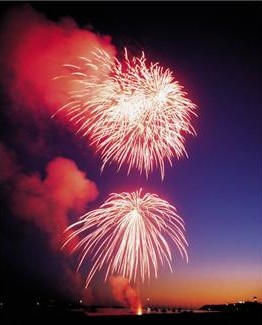 The 4th of July is one of my favorite holidays. Not only do I like fireworks, explosives, and hanging out with friends and family, I also like it for the same reasons that Memorial Day was one of my friends' mom's favorite holiday: I don't have to cook, clean, or buy presents for anyone. (The only reason my friend's mom didn't like the Fourth as much was because their house was on a parade route, so there were always guests.)
Dayton's main Fourth of July celebration takes place at Riverscape Metropark on the shore of the Great Miami, at the north side of downtown. This year, it was on the third of July, the culmination of the three-day Cityfolk Festival. In years past, the celebration has been elsewhere. In the seventies and eighties, I remember going to Welcome Stadium a couple miles down the river to see fireworks, often following a performance of the Dayton Philharmonic Orchestra inside University of Dayton arena.
Interestingly enough, the site of Riverscape Metropark was also the site of Dayton's very first Fourth of July celebration, in 1809. There were a lot fewer people, as Dayton's entire population was less than 400 at the time. There were also no fireworks – this was frontier country back then, and not many folks had the kind of money they surely cost, and animal pelts were the more common frontier currency. Instead, people sang songs, paraded around town, listened to speeches, and held artillery salutes. After a dinner hosted by one of the townspeople (cost: $ .50/person), there were wrestling matches, shooting competitions and horse racing, followed by dancing.
I've been to the Riverscape celebration before, but for the past few years, we've spent the evening with my brother and his wife, who live way out in the country. Although there are no crowds or traffic (big pluses!), it's far from quiet. : )
Does your hometown do anything special for the Fourth, and do you go? (Or your country's national holiday, if you're not in the U.S.?)  Do you know any of its history?
See more at the My Town Monday blog
Reference: For the Love of Dayton: Life in the Miami Valley 1796-2001, published by the Dayton Daily News, 2001.
Photo via Images on office.microsoft.com