It was thisclose, and I got it done! Now I am doing a read-through before sending it to my editor. More later in this post…
In Tennessee, things continue to escalate with the proposed new business, and our neighbors are meeting as I write this to strategize about some public meetings coming up. One of our neighbors rented a high-quality drone and took aerial photos of the grading, clearing, modification of a stream, and other environmental damages the owner has already done, all without permits. Unfortunately, from what I hear the typical MO in that area is to grade/clear/build first and ask forgiveness later. But while getting photos of the property in question, our neighbor also took some very cool pictures of our house.
He also took some video, and we could see the guys installing siding on the side of the house where the breezeway is. Cool! All the windows are in except for the trapezoids on top, and all the doors are in except for the front. They have been finishing up the siding and building the breezeway this past week. And no, our driveway is not as crazy-steep as it looks in the photo on the right. It's steep, but not that bad!
What I've Been Reading: I not only finished writing my current book, but I also finished reading two books. For fiction, I read an anthology of short stories: Fiction River: Hard Choices, edited by Dean Wesley Smith. There were three of the twenty stories I skipped that just weren't to my liking, one of which was in present tense (which I hate). Interestingly enough, there were two other present tense stories in the anthology, but they were so well-written it didn't bother me enough to skip them! And two of the stories I didn't like were in past. Just goes to show these things are always a matter of taste.
In nonfiction, I finished a book I bought and started probably three months ago, Find Your Focus Zone, by Lucy J. Palladino. I'm not sure why this book took me so long to read, unless it was because I mostly read it on the treadmill, and I split that time up by also watching workshop videos. It gave a lot of interesting psychological background on why we have trouble staying on task, and offered some techniques to deal with it. It was published in 2007 so was outdated. Most noticeable was the absence of any discussion on social media, but the techniques and background in the book about email and web surfing apply to that just fine. I'm not sure how much use I'll get out of it, but it was worth a read.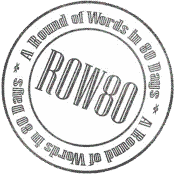 What I've Been Writing: My goal this week was to write 5,000 words or finish the book. I met that goal! It only took about 2,000 words to finish the book, and thank goodness, as that thing clocked in at 155,000 words! My next longest book, Time's Fugitive, is 143,000 words. So yes, I have some cutting to do. I also had all kinds of other writing-related stuff I wanted to work on this week, and none of that got done, mostly because I've been too wrapped up in Tennessee drama, and I'm watching Facebook like it's a train wreck. Social media is normally not a problem for me because I just don't get on it, but I need to keep up with this and contribute in any way I can from 300 miles away.
Anyway, back to writing: my goals for this week are to finish the read-through, and to send out a newsletter. I keep putting off the latter, and I need to get on it. I have TONS of books that I don't want to move, and who better to give them to than my readers?
How about you–any cool surprises in your life recently? Any surprises at all? Have you read any good books lately? How are you doing with whatever goals you might be working on, writing or otherwise? Please share in the comments–I'd love to hear from you!

Jennette Marie Powell writes stories about ordinary people in ordinary places, who do extraordinary things and learn that those ordinary places are anything but. In her Saturn Society novels, unwilling time travelers do what they must to make things right... and change more than they expect. You can find her books at Amazon, Barnes & Noble, Smashwords, Kobo, iTunes, and more.