I had an interesting conversation with a couple coworkers the other day. One woman is about my age, and has a daughter in college, and one in high school. The younger daughter is supposed to read Catcher in the Rye over the summer, and is struggling to get into it, to the point she's just about decided to just read the Spark notes. My coworker says this is unusual; her daughter is an honors student and usually doesn't have trouble with assignments, but just doesn't enjoy reading any more. She wonders if the material they read in school is part of the reason.
Our other coworker is 26, so remembers her own experiences pretty clearly. "So much of it just isn't relevant," she concluded. "We had to read a Jane Austen book–I can't remember which one, not Sense and Sensibility, the one with Mr. Darcy…"
"Pride and Prejudice?" I asked.
"That's it!" She went on. "I mean, it's all stuff no one can relate to today. Arranged marriages… and the language."
Now, I need to point out that this coworker is a highly intelligent woman, with a master's degree, and one who isn't afraid of doing hard work. My other coworker and I agreed that the archaic-sounding English also put up a barrier to relating to the story and characters.
So we went on discussing books we had to read in school and didn't like–Moby Dick, Old Man and the Sea, anything else by Hemingway. One of them didn't care for Shakespeare, either. (Interestingly enough, my college-student daughter loooooooves Shakespeare, but somehow does not enjoy reading a lot of fiction). Yet both of my coworkers like to read. The one just couldn't figure out where her daughter, who used to like it when younger, lost that joy. My daughter also used to enjoy more fiction when she was in elementary and middle school, but has moved on more toward nonfiction.
However, one thing that somehow never gets old in my family is bodily functions jokes. Yesterday, my dad emailed me a link to this video. Only the Brits could've come up with the fart noise heard across the English channel!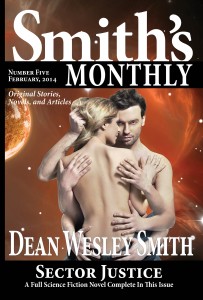 What I read this week: I started Smith's Monthly #5. I've  followed Dean Wesley Smith's blog for a long time, and especially enjoyed his "Writing in Public" blog series that he started almost a year ago. It was fun reading about a long-time pro's writing process in putting together his own magazine, and the stories sounded good, so I subscribed. It's been especially neat to see the end product after reading about his creation of the works. Dean writes in the tradition of the old pulps from the mid-20th century, so this isn't deep, thought-provoking literature, but they are fun, entertaining stories. I'm about 1/4 of the way through the novel in this one–a science-fiction romance. The hero in it is totally yummy, not creepy-looking like the guy on the cover! (And has only two arms. :))
Sorry, no puppy picture today. I didn't take any new ones this week. Puppy pics will be back, though!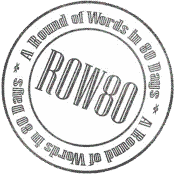 ROW80 Update: I finished the scene I wanted to finish last week, and started sketching out this week's scene. That went okay, until a character tossed a plot bunny (aka, new scene) at me. So I will be working on that this week, with the goal, once again, to complete a scene, whichever one it may be. My accountability buddy returned home from vacation, but did not lash me with a wet noddle because she didn't get her scene done, either (vacation + kids = I could've predicted that). So back to work for both of us this week.
What do you think–does reading too many books we don't enjoy in school kill the joy of reading? Which books did you have to read in school that you didn't like–or what are some you did? Is the video something your family would laugh at? If you're a writer, do you follow Dean Wesley Smith's blog? (If not, you should! Great info there, both on the writing and publishing business). Please share–I'd love to hear from you!

Jennette Marie Powell writes stories about ordinary people in ordinary places, who do extraordinary things and learn that those ordinary places are anything but. In her Saturn Society novels, unwilling time travelers do what they must to make things right... and change more than they expect. You can find her books at Amazon, Barnes & Noble, Smashwords, Kobo, iTunes, and more.