I somehow managed to get a once-a-week blogging streak going, so I'm posting today's update mostly to keep that.
This week was a busy one, as it probably was for most people with the holidays. I finished my shopping on Tuesday, which is better than I usually do. Normally, I put off buying stocking stuffers until a day or so before Christmas, but this year I got it all early. It's more important now than in the past, as starting this year, stocking stuff is all my husband and I are getting for each other. Now all that's left to do is tidy up the house, and cook Christmas dinner. My mom brings a lot of that, so that's easier than it sounds.
Tennessee Update: the house is going up fast. The builder sent us these pictures just two days after our neighbor sent us last week's.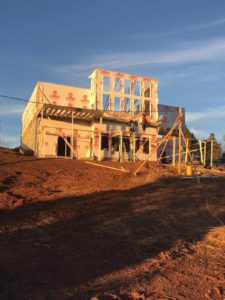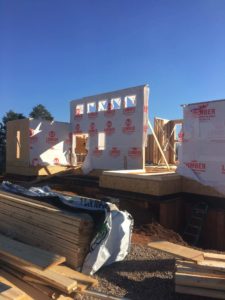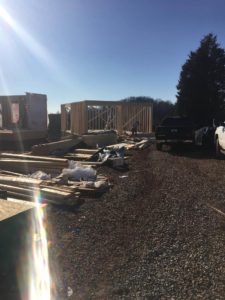 From left to right, the back of the house, the front, and the garage. There will be decks all across the back side. And wow, does the place look huge! It isn't that big a house – about 2000 square feet, plus the lower level. That will be unfinished, which we will do later.
What I've Been Reading: I'm reading an entertaining fiction book in a series I love, but haven't finished anything this week. I have not had much time to read other than a chapter or so before bed, so it's going slowly. I didn't read any nonfiction this week besides blog posts.
What I've Been Writing: The writing is still coming along slowly. I hit my not-very-ambitious goal of writing at least 200 words, for five days this week, so that's a win. I also finished Dean Wesley Smith's video series about writing a clean first draft. Most of it was reiterating stuff I've already read/heard from him before, but he finally described his "cycling" method of writing the way I've always thought of it: revising as you go. I've been working toward this myself, as I find it a lot more fun than writing sloppy first, then doing a massive revision (which is how I used to write). I"m not convinced that this is the way to go for everyone (even Smith says "every writer is different"), but it might be something worth trying if you haven't.
I also discovered some plot holes in my WIP–pretty typical when writing time travel. So this week, my goal is to spend at least an hour total on my WIP, starting with fixing this, and maybe or maybe not including new words.
What about you–what's going on in your world? Are you finished with your holiday preparations, if you celebrate? What are your plans for the week? I love hearing from you–please share in the comments! And finally, Merry Christmas/Happy Holidays to all!

Jennette Marie Powell writes stories about ordinary people in ordinary places, who do extraordinary things and learn that those ordinary places are anything but. In her Saturn Society novels, unwilling time travelers do what they must to make things right... and change more than they expect. You can find her books at Amazon, Barnes & Noble, Smashwords, Kobo, iTunes, and more.