Last week, I was working on Hangar 18: Legacy, and noticed that a bad guy in the book shares a last name with one of my friends who's also a reader. I brought up the subject at lunch a few days ago, asking "what would you think" in a generic way first. Everyone pretty much agreed that no matter what I name him, it will be someone's name. Then when I revealed who it was, my friend laughed and said her husband had some pretty shady relatives (although not murderers, I'd hope!). 🙂
I finished the print formatting and got the proof back and it's pretty!
I worked on the ebook formatting for that yesterday, but kept getting sidetracked. You see, our kitchen was a disaster area, and I had to do something about it.
Normally this is not a problem. My writing desk is upstairs, so out of sight is normally out of mind. But this time, it was worse than usual. My daughter had oral surgery on Friday (wisdom teeth – she's fine 🙂 ), and she's the one who usually cleans up. But for the past couple days, she's been taking it easy (as she should) and DH has been getting her stuff. Or she gets for herself, as I've been doing. And no one's been picking up after themselves.
So it needed to be done. Sometimes, you can focus better on the mental tasks (writing) when the brainless, but necessary stuff is done. I also cleaned the gerbil tank, and set up a new, second filter in the turtle's tank.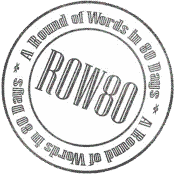 I did well with my ROW80 goals, too — I even got the estate planning chapter done, although I admit it was a really short and easy one. Here are the rest of the details:
Review Hangar 18: Legacy proof when I get it, and address any corrections needed – Done!
Find people to review it  – Done! I'm still looking, so if you're interested, I'll send you a free ebook in the format of your choice! Just 

let me know

. 🙂 

Fitness activity 5x – Mostly – got 4x in

One chapter's exercises in the estate planning guide – Done!

Be a good ROW80 sponsor and visit all the blogs I'm supposed to at minimum – Done!

BONUS: Begin formatting the ebook version of Hangar 18: Legacy – Done!
For this week, I'd like to:
Finish formatting Hangar 18: Legacy in ebook, register copyright, send out review copies, and RELEASE IT!
One hour of brainstorming/outlining my next book, a futuristic romance
Fitness activity 5x
One chapter's exercises in the estate planning guide
Be a good ROW80 sponsor and visit all the blogs I'm supposed to at minimum
BONUS: Write a press release for Hangar 18: Legacy
Does it bother you when your place is a mess, or can you ignore it? Does it ever get to the point where you can't ignore it any longer? How are your goals coming along this week, whether or not you're participating in ROW80? I'd love to hear from you – please share!