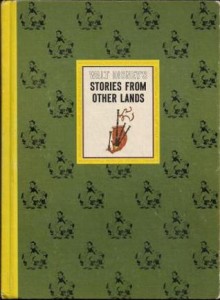 Enough about books we didn't love – how about those we DO love? I've loved to read as long as I was able, and before that, I loved to be read to. I had a favorite book back then, too – actually, a favorite set. The collection doesn't appear to have a name other than "The Wonderful World of Disney." There are four books, all published in 1965 (yes, they're older than me. 🙂  ). They're Fantasyland, Worlds of Nature, America, and Stories from Other Lands. It's the latter that contains my first favorite story: "The Cold-blooded Penguin."
I was probably three at the time. Both my parents can probably recite this story from memory, even now, because I asked them to read it to me almost every night.
"The Cold-blooded Penguin" is about a penguin who didn't enjoy living in cold Antarctica. It's based on an animated short that was part of the 1944 feature film The Three Caballeros.
While all of his penguin buddies were out swimming and tobogganing and doing fun, outdoorsy things, Pablo hid out in his igloo with a woodburning stove, trying to keep warm. One day it occurred to Pablo that he could move north. He tried walking, but froze (and had to be rescued by his penguin friends. He eventually decided to cut himself a boat out of the ice surrounding his igloo, and sailed north.
Not surprisingly, his boat melted before he reached the tropical island of his dreams. When nothing was left but his bathtub, he stuck the showerhead into the drain, and it magically drew water up through the pipes and propelled the boat forward! (This was the funniest part in the cartoon.)
Of course at age three, it didn't occur to me to wonder about the magical showerhead, or where Pablo got wood for his stove in Antarctica, or why he needed a bathtub in his igloo. But it was a great story, and still is. I also still love penguins!
I also still own the four Wonderful World of Disney books. In my copy of Stories from Other Lands, the picture above has black crayon covering the sky above the igloo, and Pablo's belly. I'm sure I did it. I have no idea why.
Check out "The Cold-blooded Penguin" on YouTube:

Do you remember your first favorite book or story? I'd love to hear from you! Maybe I'll (re)discover some more oldies (or not so old) but goodies!