IT'S HERE! Well, okay, it's on Amazon! Hangar 18: Legacy is now out, and available for purchase for Kindle, and in paperback. Here's what it's all about: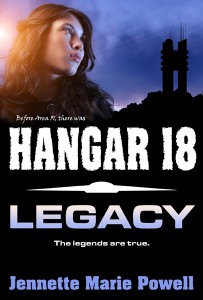 In July, 1947, a craft of indeterminate origin crashed near Roswell, New Mexico. The United States Army transported the wreckage and the bodies of several extraterrestrial beings to Wright Field near Dayton, Ohio, where they were examined, placed in storage, and forgotten. But these beings weren't dead. Now one has awoken, and he's angrier than hell…
Psychic Air Force officer and researcher Adam Keller is used to sensing the thoughts and emotions of others, so he keeps people at a distance. But when a desperate, telepathic voice demands rescue, dark thoughts of death threaten to overwhelm Adam. Then he meets a woman whose attraction to him—and his to her—quiets, if not silences, the voice. All he has to do is risk his heart and experience the emotions he's long denied himself.
Skeptical programmer Lisa Stark wants nothing more than to finish the subliminal messaging software she's worked on for over a year, a project someone wants badly enough to kill for. Then Adam discovers the voice plaguing him is an imprisoned extraterrestrial thought dead for decades. Lisa's software is key to freeing the being and silencing the voice… if she lives to finish it.
---
So that's one big ROW80 goal accomplished! If Hangar 18: Legacy sounds like your kind of book, why not hop over to Amazon and take a look? I am currently offering it exclusively through Amazon, but it will be available in other formats at other retailers this spring. I also have a few review copies still available in other formats as well, so let me know if you'd like one.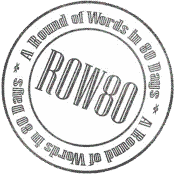 My ROW80 goals were a bit spotty this week — I always forget how time-consuming formatting and doing all the release stuff is. So that's pretty much the extent of my ROW80 success this week, along with most of my fitness. Here are the rest of the details:
Finish formatting Hangar 18: Legacy in ebook, register copyright, send out review copies, and RELEASE IT! – Done!

One hour of brainstorming/outlining my next book, a futuristic romance – No

Fitness activity 5x – partial – got 4x in

One chapter's exercises in the estate planning guide – No

Be a good ROW80 sponsor and visit all the blogs I'm supposed to at minimum – Done!
In my defense, I wasn't really able to complete the estate planning stuff, because the next chapter involves things I have to ask my husband, and he was out of town all week. I also signed up for a 6-week, online writing workshop that starts next weekend, so my goals on my next WIP may change, depending on how that goes.
For this week, I'd like to:
Two hours of brainstorming/prewriting my next book
Fitness activity 5x
One chapter's exercises in the estate planning guide
Be a good ROW80 sponsor and visit all the blogs I'm supposed to at minimum
Write press release for Hangar 18: Legacy
How are you doing on your goals this week, whether or not you're doing ROW80? Have you accomplished any of your big goals yet this year? I'd love to hear from you – please share!