…to follow and uneventful one, of course! Mostly this was travel–no wait, it was all travel. I had to go to Ohio for work, so that pretty much consumed my week, and as you might guess, no writing got done.
Work went well, and my teammates and I accomplished what we'd planned to do during my visit, so that was good! I got to spend a couple of evenings with my parents, one with friends, and also got to see my daughter and her partner. So overall a great time! It just didn't leave much time for anything else–and that's OK.
What I've Been Reading
I finished a novel before I left, The Babbling Brook Naked Poker Club, Book 4 by Ann Warner. This is a cute, cozy mystery series about people who live in a retirement community. In this book, the main characters are handed several valuable pieces of artwork that were stolen in an infamous heist decades before, and now must return it while avoiding being charged with the crime themselves. A fun and delightful installment in a series I really enjoy! Highly recommended!
What I've Been Writing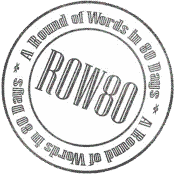 Ummm…. nothing. Just too much going on this week. I also didn't have a chance to watch any workshop videos, so that too is a big fat zero. I don't regret it because family and friends are more important, and I don't get to see them often, since our move. But this is a new week, and I'm going to fall back on the same goals: for the writing, make a list of 20 things that could happen in each of the next three scenes; for the learning, I want to watch the first week's videos and do the assignment for a WMG Publishing online workshop in Secondary Plotlines. Actually getting into the writing will be a bonus.
What about you–ever have one of those weeks where you make no progress? Have you done any traveling lately? How are you doing on whatever goals you're working toward, whether writing or otherwise? Please share in the comments–I'd love to hear from you!

Jennette Marie Powell writes stories about ordinary people in ordinary places, who do extraordinary things and learn that those ordinary places are anything but. In her Saturn Society novels, unwilling time travelers do what they must to make things right... and change more than they expect. You can find her books at Amazon, Barnes & Noble, Smashwords, Kobo, iTunes, and more.