Hangar 18: Legacy
Available in eBook and paperback
Contemporary Paranormal Military Romantic Suspense
U.S. Air Force research psychologist Adam Keller is an empath, accustomed to sensing the thoughts and emotions of others. Because of his gift, he keeps people at a distance. When a disembodied presence full of anger and fear invades his mind and demands rescue, dark thoughts of death threaten to overwhelm Adam. Then he meets a woman whose attraction to him quiets the voice. All he has to do to keep his sanity is risk his heart and experience the emotions he's long denied himself.
Lisa Stark wants nothing more than to finish the subliminal messaging software she's worked on for over a year. When someone wants it badly enough to kill for it, Adam senses Lisa's in danger and comes to her rescue. Lisa fights her feelings for the sexy officer with an uncanny ability to guess what she's thinking, but their attraction to each other grows, and not only because Lisa's the only one who can warm Adam's chilled body and soul. When he discovers the source of his mental invasion is an extraterrestrial thought dead for decades, Adam realizes that Lisa's software is the key to releasing the being – if he can gain her trust and keep her alive long enough to finish it.
Buy Hangar 18: Legacy at Amazon (other retailers coming this summer)

How I Met My Husband: the Real-life Love Stories of 25 Romance Authors
Available in ebook, FREE
Anthology, true romance
How I Met My Husband is a collection of the real-life love stories of 25 romance authors. It's a fun look at how each of these women met the man they would eventually marry. Some were surprised, and some knew right away he was "the one." Some are funny, others poignant, and some are just cute and sweet. In "Looking for Mr. Goodwrench," a Pontiac Sunbird GT with an oil leak changes the life of a young graphic designer too poor to take her car to a shop. Following each story is a brief excerpt of one of the author's current releases. Edited by Michele Stegman, cover art and formatting by Jennette Marie Powell. Authors and stories include: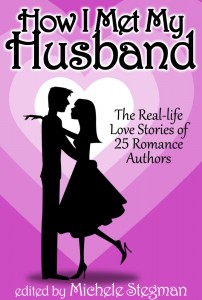 Michele Stegman: "A Book of Life and a Trick"
Jennette Marie Powell: "Looking for Mr. Goodwrench"
Athena Grayson: "The Game of Love"
Brenda Hiatt: "Halloween Hooker"
Gwen Williams: "A Good Friend"
Nancy Morse: "Grandma's Wisdom"
Meredith Bond: "Not So Awful After All"
Cassandra Carr: "Friendship to More"
Janet Fox: "He Had a Stake in the Outcome"
Margaret Caroll: "A Walk Through the Plaza"
Lyn Cote: "The Light that Illuminates"
Patricia Lieb: "Lumps in the Mattress"
Judy Lynn Hubbard: "Destined"
Eileen Cook: "Christmas Tree Magic"
Mary Campisi: "I Found Love at the Grocery Store"
Julie Lence: "Traitorous Dealings"
Nikki Duncan: "Love in the Lunch Line"
Diane Burton: "Intervention"
Jenna Ives: "Only an Englishman Would Do"
Cris Anson: "They Danced into My Heart"
Beate Boeker: "Around the World to Find Love"
Victoria Roder: "I wouldn't Have Married You if I Didn't Love You Kind of Guy"
Cindy Spencer Pape: "The Geek and the Townie"
Janis Susan May Patterson: "Love Begins Late"
Download How I Met My Husband for Free at Amazon | BarnesandNoble.com | Smashwords.com and other ebook retailers.

Home for the Holidays
An anthology of romantic holiday stories by the Ohio Valley Romance Writers of America
Available in print and ebook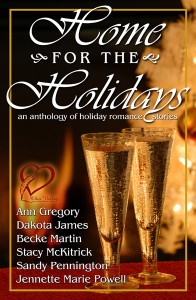 This collection of romantic holiday stories from the Ohio Valley Romance Writers of America runs from sweet to poignant, darkness-tinged to comedic, but in all, people find the hope of love, and joy in the holidays. Stories feature married couples and those newly-met, some whose lessons lie in the past, and even vampires… all of whom find happiness and peace when they come Home for the Holidays.
"Coventry Arcade" (by Becke Martin) is where Ben Whitaker is determined to get his beloved Lily the best gift very little money can buy in this homage to O. Henry's classic story "The Gift of the Magi."
In "The Holly and the Ivey" by Sandy Pennington, Jon thought bells would be ringing a merry tune when he did a surprise Christmas visit but it turned out to be a Ho! Ho! Oh, no! instead.
Aileen is frustrated when she has difficulties communicating with her mentally challenged brother. But Dr. Lew Bard shows her it's really just a matter of "Speaking the Language" by Ann Gregory.
There's magic in threes in "Triple Trouble for Christmas Eve" by Becke Martin. With her dying breath, the triplets' mother predicted they'd all find true love by midnight on Christmas Eve. Too bad Mom didn't specify which Christmas Eve.
In "Merry and Bright" by Ann Gregory, Alex and D'Vee discover that a cup of spicy tea and a pair of fine brown eyes can both be inspiring. The Christmas season is the perfect time to kindle friendships and create possibilities.
Aiden Flynn is no Superman, but he does have a secret identity. And he just might be able to save Christmas for one young boy and his hardworking mom in "Silver and Gold" by Becke Martin.
Vampire Katarina thought she was drawn to the mortal who refused her gift of immortality 45 years ago, but on her "Last Christmas Visit" (by Stacy McKitrick), she discovers the truth.
Christmas can be murder when a trip back in time pits Taylor Gressman against a murderous street gang, but through a new friendship, she learns the greatest gift is in the giving in "Time's Holiday" by Jennette Marie Powell.
In "No More Resolutions" by Dakota James, Stella despises holidays. Now she has to find a husband for bosszilla, deal with a stripper pole in her house and work with Simon, the guy she loves to hate. Or does she?
Buy Home for the Holidays at Amazon
 | Barnes and Noble | Kobo Books | Smashwords | Sony. Print edition available at Amazon.