ROW80 Round Two began last week. Or if you prefer, second quarter of the year.
And I totally missed it.
I do have an excuse reason: we were in Tennessee, a few days later than originally planned. We'd originally planned to go Thursday through Sunday, but DH was sick so we waited a few days and left on Sunday instead, after he was feeling better. I guess some people can get out their laptops and write while in the car… I'm not one of them. And by the time we got in the writing and blog just weren't happening.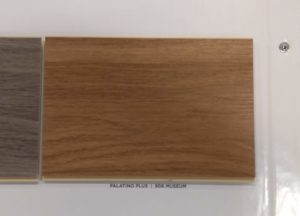 Monday was a whirlwind, though much better than the last day that busy. We started out grabbing some paint chips for the house, then looked at flooring, and that took a good while longer than I expected. But I'm very happy with what we picked out! We wanted something with the look of hardwood, but that wouldn't be practical with two big dogs, so we went with vinyl plank. Good vinyl is very convincing, and it's also less expensive than hardwood, so win! Did I mention we're over budget? So double-win!
After that, we drove by an apartment building our commercial Realtor sent us info on. And while all this was going on, our Realtor in Ohio was calling us. The apartment we're selling here is under contract, but there have been some odd things about it all, so we've been expecting the deal to fall through. It was supposed to close on April 15th… but the buyer decided he wanted to close last Tuesday! So DH was scrambling making phone calls to the title agency and various other players to see if that could happen. The title agency later informed us that they couldn't pull everything together that quickly, so the buyer would have to wait. We're supposed to close this week. We'll see what happens!
After checking out the TN apartment, and grabbing a quick bite to eat, we went to the kitchen cabinet vendor to confirm our cabinet choices made over email, and to pick out countertops. DH surprised me when he actually made a suggestion on the latter, and it was a bold, dramatic pattern I would have never expected from him. This countertop will be on the island, which will have black cabinets. The rest of the kitchen will have the grey stained cabinets, with black galaxy granite. We have the latter in our house now and love it (the copper fleck is great for hiding crumbs!).
Then we went to meet the builder at the house. We'd already stopped by the night before, but had some questions for him. Workers were there installing insulation. We used our paint chips to decide on the specific exterior colors (as in, other than "brown"). Since my last update, the stone has been added, deck railings mostly finished, and more of the shake siding on the center section that hadn't been completed yet. The metal roof over the breezeway and part of the porches is done. They also put the hot tub on the porch, since it will be much more difficult to move it there once drywall goes in (soon!). Fireplace inserts were also in, and more work on the plumbing and electrical.

For the colors, most of the house will be the darker brown shown here. It's about the same color as the decking. Trim will be the medium brown, and the shake siding will be the lighter color.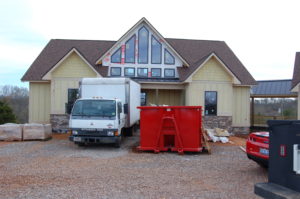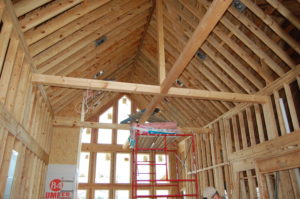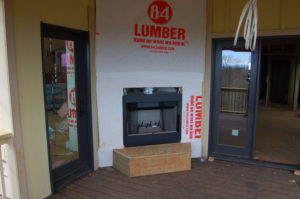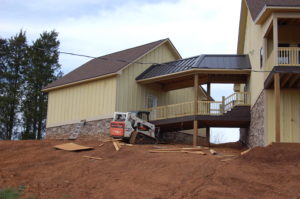 In other news, the unwelcome business proposed for across the street has postponed their zoning hearing for a third time. Another commercial zoning request in our area was just denied on all the reasons our opposition group is asking for this one to be denied. I hope the landowner and his employees are figuring out that the re-zoning policy does not favor them, and just give up and go elsewhere. But until they do, the neighbors and I are continuing to keep a close watch on the situation.
What I've Been Reading: Why yes, I still managed to do some reading. Last week, I finished Trader's Honour, by Patty Jansen. This is a YA science fiction, and while its predecessor didn't feel very YA, this one did, mainly because amidst saving the world (or at least her part of it), the main character was worried about college (or their equivalent), and a guy she liked. I really enjoyed it, and am looking forward to Book 3 in the series.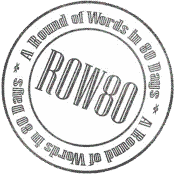 What I've Been Writing: Despite my lack of a check-in last week, that's been moving along, too. My goal last week, thinking we were going to TN on Thursday, was to write 2000 words, and this past week's goal was to have been 2500. I ended up with about 2200 words last week, and 2600 this week, so happy with that. There's bound to be some extra craziness this week with the apartment closing and paperwork collection for that, so I'm going to stick with a goal of writing five days, for 2500 words again.
What about you–how have your last couple of weeks been? Any surprises (good ones, I hope!)? How are you doing with whatever goals you may be working toward, whether writing or otherwise? Please share in the comments–I'd love to hear from you!

Jennette Marie Powell writes stories about ordinary people in ordinary places, who do extraordinary things and learn that those ordinary places are anything but. In her Saturn Society novels, unwilling time travelers do what they must to make things right... and change more than they expect. You can find her books at Amazon, Barnes & Noble, Smashwords, Kobo, iTunes, and more.